Save our Sanctuary Update
Last year we had to launch an appeal to help save our sanctuary 
due to
 our financial position being impacted
by
 Covid-19 and the continued cost of living crisis. 
In the last 10 months you have been constant in your love, support and generosity and helped us raise enough to see us safely through to this point. We are still a way off of our goal, and we're not out of the woods yet, however with huge thanks to our supporters we are in a better situation than before. 
We 
are now working on 
our strategy to rebuild and strengthen our charity to become sustainable financially 
and
 to guarantee we are still here for as long as we are needed. 
We cannot thank you all enough
:
each 
and every donation and message of support helps us through each day. 
We are hopeful for the future and hope you stay with us whilst we continue on this path. 
With love and best wishes, 
The monkeys and team at Wild Futures❤️
.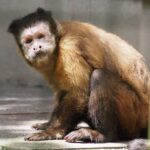 Wild Futures' The Monkey Sanctuary is in real danger of closing,
putting the monkeys' futures with us at risk!
The Sanctuary is home to 40 monkeys rescued mainly from situations of abuse and neglect from the UK primate pet trade. Established in 1964, the charity has nearly 60 years of expert experience in primate welfare and caring for rescued primates. However we are desperately appealing for help to save our charity as we face financial difficulties.
The last few years have been really tough. The impact of the Covid-19 pandemic along with the emerging cost of living crisis and increasing costs means that we are on the brink of closure.
Despite our incredible fundraising efforts, and the generosity of all our wonderful supporters over the last few years, the Covid-19 pandemic forced us into spending our reserves. Now with the cost of caring for the monkeys increasing, our monthly outgoings are close to £50,000 a month and we are not raising enough to cover that.
With our reserves depleted, our future is in danger. If things don't change, we cannot guarantee our rescued monkeys' futures with us at the Sanctuary.
Please donate today to help us save our sanctuary and keep our promise to provide a home for life for our rescued monkeys.
Each rescued primate has their own distinct character and personality. As pets, many were left alone in tiny, barren cages, some were even physically abused. Wild Futures offers them a chance to heal and socialise with others of their own kind, and experience a natural environment to explore, forage, play and climb trees in.
We will do everything we can to save our sanctuary and the monkeys' home.
We cannot do this alone, so we desperately need your help. Please share our appeal with friends, family and colleagues. Times are so difficult for us all, but if we reach enough people, we know that together we can save our sanctuary and keep our promise to the monkeys in our care to continue providing them with a safe home for life.
Please donate to Save our Sanctuary today. No gesture is too small; together we can come through this.
To donate a one off gift, or set up a monthly donation, click here.
Send a cheque made payable to Wild Futures
Text SOS to 70560 to donate £10
We know that with your support we can come through this. Please do give us a call or email us if you would like to know anything else; we would love to have a chat. Give us a call on 01503 262532 between Monday – Friday 9am-5pm. Email us at [email protected].
Thank you from all of the monkeys and staff at Wild Futures for your continued support and love.
                                                                                          ❤️