Experience being a Primate Keeper for a Day!
**Unfortunately due to Covid-19 we have had to temporarily pause our Keeper for a Day Scheme and not accept any further purchases until a later date. If you have already purchased your keeper for a day, please get in contact with us via email to [email protected] and we will endeavour to get you booked in as soon as we are able to. The welfare of the monkeys in our care is paramount and is as always our main priority, along side the safety of our staff and any visitors we have onsite, so we thank you for your understanding. Thank you.**
Our Keeper for a Day experience provides a once in a lifetime opportunity to gain a unique insight into the day-to-day life of our keepers.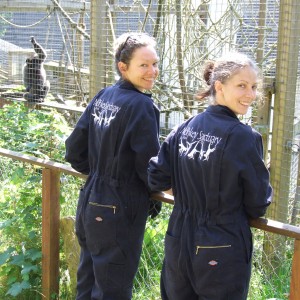 All the money we raise through this scheme goes to support our charity's work, so your day as a keeper will be making a difference to primates and habitats worldwide too!
During the open season at The Monkey Sanctuary, we run full day experiences for those who have always wanted to know what it is like to be a Primate Keeper. Working closely with experienced members of the Primate Welfare Team, participants gain a behind-the-scenes insight into their roles and become involved in important aspects of the monkeys' lives.
Start the day by meeting one of the sanctuary's primate care staff for a talk and a quick drink, before mucking in to clean out the monkeys! Then get introduced to some of the rescued capuchin monkeys and hear their incredible stories, before foraging for edible wild leaves for them to eat. After lunch, it's time to get back to work, ending the day by preparing food for the Barbary macaques and fun enrichment for some lucky monkeys.
Included in the Keeper for a Day experience is:
A full day's one-to-one supervision and training by experienced members of the Primate Welfare Team.
A certificate of your day
Friends of Wild Futures membership
This unique opportunity to be a primate keeper for a day is only £160 per person or £250 for two people.

For any further information then please contact: [email protected]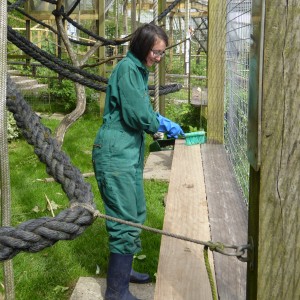 Comments from previous Keeper for a Day participants:
"We both had a thoroughly enjoyable day and loved all of it. It is a beautiful place and it shows everyone cares enormously about the welfare of each and every monkey. Thank you so much for giving us a day never to be forgotten. We shall definitely re-visit next year."
"The whole experience was enjoyable and all the staff were really enthusiastic in their work."
"It will stay with me forever!"
Please Note: As a "hands on" experience, you will be required to work alongside the trained primate welfare team in any weather conditions. The work does require some physical exertion. Please ask for advice if you have any medical condition or disability that you are concerned may affect your ability to enjoy the experience to the full. We will make every effort to adapt the experience to your needs. There is no direct contact with the monkeys at any point during the day. For insurance purposes, the scheme is only open to those aged 18 and over.