The Gift Shop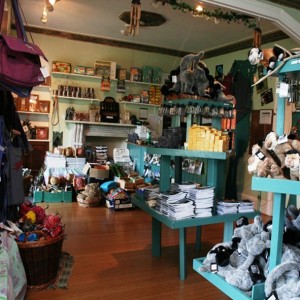 The Monkey Sanctuary Shop offers visitors a wide selection of giftware, clothing, toys and the opportunity to adopt our rescued monkeys.
Not just concerned with quality, but in line with our organisation's ethical stance, we source all our goods from ethical suppliers to offer you a choice of great items sourced from companies that operate Fair Trade, organic, recycled or other ethical means of production.
Open during Sanctuary business hours (11.00am-4.30pm, Sat-Thur). If you would like to shop out of normal business hours, please visit our Online Shop.
The Tree Top Café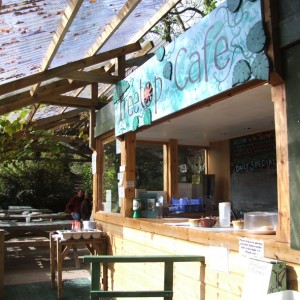 Overlooking The Sanctuary grounds, the Tree Top Café serves a section of delicious vegetarian food.
Enjoy your meal in the sunshine on our decking, in the grassy picnic area beside the fragrant herb garden; or dine under the canopy surrounded by rainforest creatures and learn about recycling from our colourful displays.
Our Tree Top Café is an eco-friendly establishment. We endeavour to use local suppliers (thus supporting the Cornish economy and saving energy on transport) and fair-trade products such as our teas, coffees and chocolates. We aim to produce as little waste as possible and to recycle the waste we do produce. To this end we now provide recycling points to Sanctuary visitors and to the surrounding community. All food waste is composted and used in the Sanctuary gardens and orchards, which in turn provide food for the monkeys.